By Douglas Holt and Steve Mills (Tribune Staff Writers)
The Chicago Tribune – February 4, 1999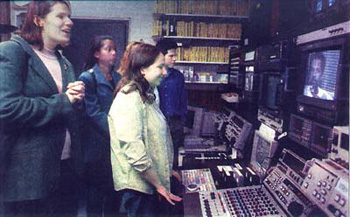 In a stunning development in controversial Death Row case, a Milwaukee laborer made a videotaped statement Wednesday implicating himself in the 1982 murders of a South side couple and appearing to clear condemned prisoner Anthony Porter.
The statement by Alstory Simon to a private investigator came five days after his estranged wife implicated him in the murders of Jerry Hillard and Marilyn Green and accused Chicago police of pressuring her to identify Porter as the killer.
Simon, speaking on the videotape, said he felt threatened during a confrontation over drug money and was protecting himself and his wife. He fired his gun, he said, because he thought Hillard was going for a gun in his coat.
"Before I knew anything, I just pulled it up and started shooting," Simon said during the 10-minute statement, videotaped in his Milwaukee apartment. "I must have close to busted off about six rounds."
The private investigator made the tape while working with a team of Northwestern University journalism students and their professor, David Protess, who have been reinvestigating the double murder.
Cook County prosecutors received the tape Wednesday night and were reviewing it, said Bob Benjamin, a spokesman. "We do have to conduct our own investigation," Benjamin said. "We can't act on a videotape."
Simon's lawyer, Jack Rimland, said he had been in "constant contact" with prosecutors and said they wanted to talk with Simon. The private investigator recommended Rimland to Simon.
"I will look out for his best interests, whether that's advising him to remain silent or advising him to talk," Rimland said late Wednesday. "Obviously, if he's charged, he's looking at the death penalty."
Murders: A taped statement from a Milwaukee man appears to clear Death Row inmate Anthony Porter.
Porter, sitting in a cinderblock visiting room in a maximum-security unit at Cook County Jail, where he was transferred for court hearings on his mental competency, slumped in a stainless steel stool and banged his handcuffed fists against his forehead when he was told of Simon's statement Wednesday.
"Oh my God. Thank you, God," he said as he began to weep. "I'm just, overwhelmed. I've been trying to fight for my life for so long."
In September, Porter, 43, came within two days of being executed by lethal Injection but received a stay from the Illinois Supreme Court, because his lawyers argued he had a low IQ and was not mentally fit to be put to death.
Simon's statement caps a week of twists–including a statement by, Simon's estranged wife, Inez Jackson, and recantations by other, witnesses in the case–that Increasingly have thrown Porter's 1982 conviction into doubt.
Porter's attorney, Daniel Sanders, said after watching the video Wednesday that he would file court papers next week with Cook County Judge Thomas Fitzgerald seeking to vacate Porter's conviction and free him.
"It doesn't seem that there's anybody left saying Anthony did it," Sanders said. "To get these people making statements is really something."
If Porter eventually is exonerated, he will be the 10th Death Row prisoner in Illinois released since the state reinstated capital punishment in 1977. Only Florida has released more condemned prisoners.
Rimland also played a role in one of those previous Illinois cases, involving four men known as the Ford Heights Four. Rimland represented Ira Johnson after he confessed to the Ford Heights killings when the initial case unraveled, and he arranged for Johnson to plead guilty in exchange for a life sentence without parole.
Hillard, 18, and Green, 19, were shot and killed in Washington Park on city's South Side on Aug. 15, 1982, following the Bud Billiken Parade. Porter, then 27 and a gang member with an armed-robbery conviction, was charged two days later.
Although Sanders had been challenging Porter's death sentence on competency grounds, saying his IQ of 51 made him unable to understand his sentence or assist in his defense, the question of Porter's innocence now has become the focus of the reexamination of the case.
Interviewed by Protess' students in mid-December, the state's lead witness, William Taylor, recanted his eyewitness testimony, saying in an affidavit that Chicago police, "threatened, harassed and intimidated" him into identifying Porter as the gunman in Hilliard's and Green's murders.
"Taylor [also] said he saw the shooter fire with his left hand, and Anthony Porter is right-handed," said Shawn Armbrust, 21, a senior majoring in journalism.
When another journalism student, Tom McCann, 21, and private investigator Paul Ciolino interviewed Taylor, he eventually recanted his trial testimony.
"He said he was putting on his clothes and that he saw a figure run really fast right by him," and that police had coerced his testimony fingering Porter, McCann said. During questioning by police, Taylor recalled how one officer kept asking him, "Who are you more afraid of, Porter or us?" McCann said.
After that, additional pieces fell into place for Protess' team. Last month, Inez Jackson's nephew, Walter Jackson, signed an affidavit saying that in 1982 Simon had told him he had "taken care of" Hillard over a drug debt.
Then on Friday, Inez Jackson signed an affidavit saying that she was at Washington Park with Simon when he got into a quarrel with Hillard over a long-standing debt and opened fire, killing him and Green.
"My students and I have believed for months that Anthony Porter is innocent," said Protess, who with another group of students was instrumental in freeing the Ford Heights Four.
Getting a statement from Simon proved more difficult. The students approached him recently, and he denied having anything to do with the double murder.
But early Wednesday, Ciolino went to Milwaukee to bring Inez Jackson to a meeting with prosecuters. He stopped at Simon's brick and stucco duplex to make another try.
Simon rebuffed Ciolino initially. But as they sat in his living room with a morning news program on the television, Simon saw a videotaped statement by his estranged wife accusing him of Hillard's and Green's murders.
"He was claiming he knew about the shooting, but he didn't do nothing," Ciolino said. "Then all of a sudden he sees it on the news, and the air just kind of went out of him."
Ciolino said that after Simon apparently realized how much attention the case was receiving, he challenged Simon to tell the truth and perhaps save a man from execution. Ciolino also suggested that authorities were close to arresting him and he should offer his account.
"I said, 'Al, it's time to stand up and be counted,'" Ciolino said. "You got a guy that's going to be executed because of your actions."
Simon, according to Ciolino implicated himself but said the murders were self=defense. At that point, private investigator asked if he could videotape the rest of the interview, telling Simon, "I'll make sure everybody knows why you did it."
At that point, he said, Simon agreed to go on tape.
On tape, Simon who was paroled in January 1981 from Sateville Correctional Center in Illinois after serving 4 years of a 5 to 15-year term for armed robbery, first described his life in Milwaukee, where he said he works in home improvement.
Then he began to talk about the murders. He explained he had been selling heroin, cocaine and PCP on the South Side when Hillard got into debt with him over some drug deals. But Hillard
refused to pay him back.
At the park, things got tense. When I started asking him about my finances, he began to get a little loud and a little bodacious," Simon said on the video.
Simon said Hillard reached into his coat, a move he acted out on the video, leading him to fear Hillard had a gun. He said he did not intend to kill Green.
"That was an accident," he said. "She had nothing to do with nothing."
Simon and Inez Jackson offered identical accounts of their dealings with police. They said detectives came to their home the morning after the murders to talk them and show them photographs of suspects.
But, they said, the police were not interested in what they knew and they did not suspect them. Instead, they said, the police simply were after Porter. She knew that Porter was innocent but said nothing, however.
"When they came to my house with those pictures, they told me who did it. They told me," Inez Jackson said in an interview with the Tribune. "I didn't have an chance to say nothing because they didn't ask me nothing."
Inez Jackson arrived in Chicago shortly after lunchtime Wednesday and viewed Simon's statement as she held her 9-month-old granddaughter and sipped a soft drink.
"Everything I said, he said. He told the truth, finally," she said.
Inez Jackson said she regretted not speaking up earlier but said she feared for herself and her children if she did. Now, she said, a burden has been lifted.
"Now maybe I can sleep at night," she said.
One of the officers who worked the case, Detective Guy Habiak, declined to comment, saying they had not seen the video. The others could not be reached. A police spokesman, Pat Camden, said officials had not begun any investigation.
"The case in the media is a little less than clear," he said. "If there are allegations of wrongdoing, that is something that will be investigated."
"But for the mother of murder victim Green, the videotape made things very clear. Offie Green said she had suspicions about Simon all along and even provided Protess and his students with an affidavit saying she had told police of her suspicions.
She said Simon and Inez Jackson left town early the morning after the murder, heightening her belief that Porter was not the gunman.
"I never did feel [Porter] was the one that did it," she said.
As for Porter, he said he had finally begun to let himself think that his prayers had been answered and he might soon walk free.
He said he had found it difficult to be separated from his family, including his six children and six grandchildren, as well as his friends.
"The first thing I want to do is hug my mother and hug my children," he said, cupping his hands around a circular air vent as if to make his words heard more clearly, "and to let then know I'm back and I love them very much."